Gastester
If you buy only one diagnostic instrument in your life this is it! Gastester is the world's most accurate and affordable exhaust gas analyzer. Gastester measures the level of carbon monoxide (CO) in exhaust gas the principal indicator of air fuel ratio.
Why is measuring CO important? Variations in the fuel mixture affects power output, fuel consumption, and exhaust emissions, so the ability to measure fuel mixture is a critical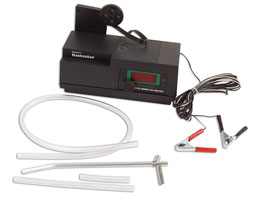 step that was previously unavailable to the home mechanic. Gastester is indispensable when replacing or tweaking the existing carburetor, or when preparing for a state mandated emissions test. Gastester's accuracy rivals commercial units and there is no calibration gas to purchase and store. Included is a complete and comprehensive tuning and diagnostic instruction manual.
AEP's exclusive CO level to fuel mixture conversion chart converts Gastester's CO Level readout to a more performance oriented fuel mixture value. In addition, AEP's fuel mixture performance curve shows the fuel mixture range for maximum performance, low emissions, improved gas mileage or a balance.
Whether your passion is cars or motorcycles, Gunson has the tools that make engine tuning easy and straightforward. Gastester and Colortune help you tune like a pro by taking the guesswork out of engine tuning. Colortune is easy to use and gives you a visual indication of the air/fuel mixture based on the color of combustion which does not vary. Gastester measures percent carbon monoxide, the principle indicator of air/fuel mixture and engine efficiency but results may vary with ambient conditions. I supply a table, an AEP exclusive, that lets you convert from percent CO (useful for emissions testing) to air/fuel mixture.
If your engine has one carb per cylinder consider Colortune first. Whenever you are setting the fuel mixture you must measure the exhaust gas produced by the carb. This can be tricky on multi carb application since there are usually only two exhaust pipes. Some cars have exhaust header ports that you can connect Gastester to giving you the ability to measure and tune individual carbs. If you can see the top of the spark plug or can use a mirror to look down into the plug then Colortune will work well. If clearance is tight or line-of-sight is blocked then go with the Gastester.
To tune individual carbs with a Gastester you must be able to sniff the exhaust stream from either the tail pipe or from a port in the exhaust header. Some people are using a Riv-Nut kit available from Snap-on to create an exhaust port.
Home made exhaust pipe adapters used in a Maserati for Gastester analysis.
Eezibleed $39.95